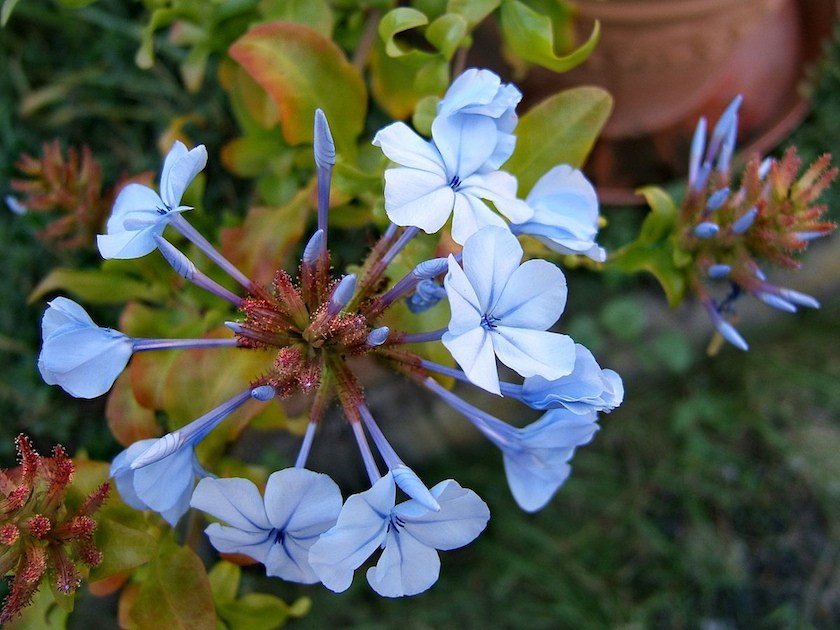 The right choice of plants can make your conservatory or orangery something extra special. A splash of colour and lingering sweet scents will ensure every second you spend relaxing in the extension to your home is a pleasant attack on the senses. But what plants are best suited to a conservatory environment?
As with outdoor plants, indoor plants come and go with the seasons. Some can flourish indoors and then be transferred to the patio in the height of summer, making them economical as well as versatile choices. Shrubs and climbers can give your conservatory or orangery character and help set the scene for additional, potted plants.
The plumbago auriculata is a climbing shrub with beautiful sky blue flowers. It is a particularly versatile plant; it can be grown indoors and then moved outside for the summer – so long as the temperature remains above 0 degrees. Experts recommend it is tied as a climber or, if being transferred outside, grown in a pot. The plant should be pruned back in spring to encourage more buds. Feature image by Wildfeuer.
Pandorea jasminoides is a perfect choice if you like a plant that just keeps on flowering. This hardy pot plant flowers in spring, summer and autumn, giving off a dramatic scent. Its spanned, tubular white flowers boast a splash of magenta and are set off by attractive, glossy leaves. The plant is best pruned after flowering to keep it at a manageable size and should always be kept at a temperature above 5 degrees.
If you are looking for a vigorous climber, complete with twining stems and big, bright yellow flowers, the hibbertia scandens is an ideal choice. The 6cm flowers are complemented by dark, leathery foliage in summer months. This plant will need regular attention to stop it from becoming unmanageable and should be pruned after flowering. It should be kept in a temperature of above 5 degrees.
For a touch of the exotic and a real treat on the eye, you can't go wrong with a calamondin tree. It produces large numbers of very small orange fruits. Its skin is sweet and its flesh is tart, making it an excellent choice for homemade marmalade or use as a decorative ice cube. The orange fruits are preceded by scented white flowers in spring and summer. The tree thrives in temperatures above 5 degrees and should be pruned before spring.
You can grow grapes in your conservatory. The vines will look lovely if you train them to grow along the top of the inside. You will only need one or two vines and they should be planted at least 1m apart at the opposite end to any exterior door. Because you can't plant vines directly into the ground, you will need an adequate-sized pot with plenty of drainage. The best time to plant vines is in either November or December. The vines will need feeding from spring every three weeks. Use a tomato fertilizer and the occasional sprinkling of dried blood.
These are just a few of the many plants you can grow and enjoy in your orangery. One or two flowering pot plants and a climber could be the inspiration you have been looking for to add that finishing touch to your beautiful home extension.
For more information on our favourite orangery plants check out the RHS website which is brimming with gardening information.
If you have a conservatory or orangery plant that you are particularly proud of we'd love to see it.  Post a picture to our Facebook page.