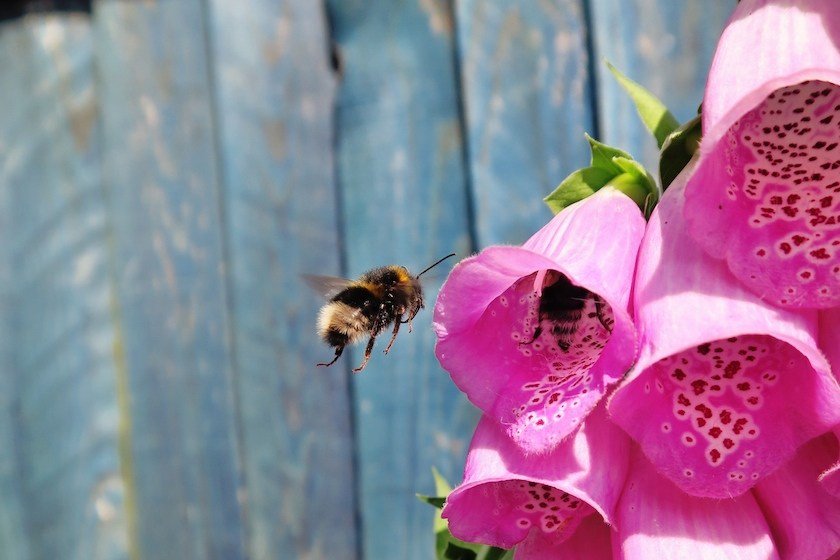 In support of National Insect Week 2016 (20th – 27th June) we are looking at ways that you can encourage bees into your garden this summer.
There is no sting in the tale when it comes to the story of why bees are good for your garden. With more than 250 different species of bee in the UK, this is the insect you should be encouraging to visit your plants. If you are a keen gardener, bees hold the key to pollinating your flowers. They achieve this during their ceaseless quest to collect nectar and pollen, moving from flower to flower.
For all the bee species in Britain, there are only three groups – the honeybee, the bumblebee and solitary bees. Here is how you can encourage them into your garden and produce stunning floral displays:
Plant nectar and pollen rich flowers
This is the easiest way to attract bees to your garden. The list of suitable plants is exhaustive, meaning there's bound to be at least one or two to your liking. The Royal Horticultural Society has drawn up a handy and quite extensive list that you can download completely free-of-charge.
Considerate planting
Bees prefer to visit clusters of plants in sunny spots rather than those that are scattered or in the shade.
Be careful with pesticides
Use sparingly and avoid spraying open flowers.
Provide perfect nest sites
The hollow stems of bamboo canes or plants will be used by some bees, so long as the holes are between 2 and 8mm in diameter. If you are not sure, you can buy cardboard nest tubes from most garden centres. Alternatively, you can drill holes in logs. Nests should be placed where the sun will find them. Solitary bees sometimes nest in the ground and will find their own sites.
Introduce British wildflowers
These plants will enhance your garden and attract bees and other pollinators.
Become a beekeeper
The British Beekeepers' Association will help you with everything you need to know.
Wild bees and other insects considered to be pollinators are reported to be in decline, which is why householders can play a vital part in their survival while helping their gardens to grow. By planting flowers that attract bees, experts behind the National Pollinator Strategy hope gardeners can help reverse the trend. It's not just flowers that will benefit – apples, strawberries and tomatoes also rely on pollinators to successfully bear fruit.
Having more bees in your garden doesn't mean you will get stung. If you respect bees, they will leave you alone and get on with what they like doing best – collecting nectar and pollen. So, you see, there really isn't a sting in this tale at all.
If you don't have a garden you can still get involved, window boxes or hanging baskets planted with bee attracting flowers are a great way to add to the kerb appeal of your home and enhance your windows and external doors.